Record, download, and manage all the action with the HD Mirror Cam!
Easy Installation- clips on to existing rearview mirror
Motion Detection- responds to movement outside of car
Exclusive Night Vision
2.5" LCD Playback Screen With Screen Shut Off Mode
Supports Class 10 Speed Micro SD Memory Cards up to 32 GB*
Built-in Rechargeable Battery
350° Rotating Camera
Plus much more!
HD dash cam, ready to take action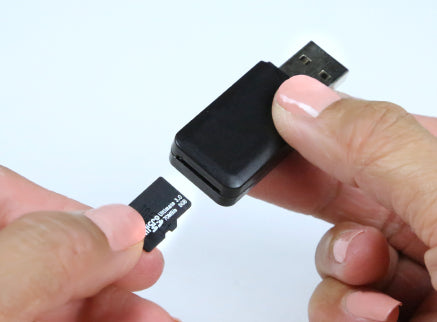 Downloadable Audio/Video/Photo
Connect card reader into USB port of your computer to download content.
Auto Ignition Start
Easy to install & starts recording automatically with ignition start.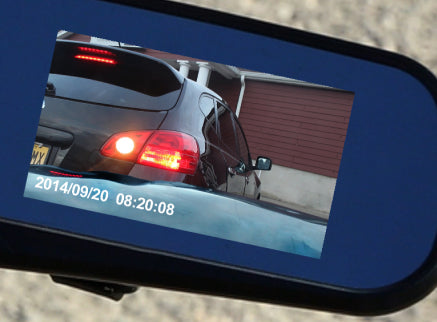 720P HD Video
Records in 720P, 120º HD wide angle video and crystal clear audio.
Frequently Asked Questions
What accessories are included with the HD Mirror Cam™?
HD Mirror Camera
Car charger/vehicle power cable
Reset pin
Five 3m wire clips
Quick start guide
Instruction manual
Micro SD card reader
2 sets of (2) soft rubber band straps
How do I mount or install the HD Mirror Cam™ in my car?
Attach the HD Mirror Cam™ to your existing rear-view mirror using the adjustable rubber strap bands. Connect the device to the included car charger. Use the included clips to secure the charger cord around the windshield. Once the above steps are done, turn on the ignition of the car, and the HD Mirror Cam™ will automatically start recording (make sure the micro SD card is inserted).
After recording for 3 minutes, does the HD Mirror Cam™ shut off?
Videos are recorded in a loop. After every loop, the screen goes blank for 30 seconds, and then it comes back. You can set the video time to 10 minutes if you want a longer loop.
I have an SD card. Why does my HD Mirror Cam™ show no SD card?
Verify whether the memory card is inserted correctly in the adaptor. Also, verify that you are using the correct type of SD card and that it's either an 8GB, 16GB or 32GB SD card.
Will the HD Mirror Cam™ fit on any rearview mirror?
The HD Mirror Cam™ is designed to fit most standard-size, factory-issued rear view mirrors (vehicles equipped with built-in smart mirrors like OnStar might not be able to use it properly). If you have an extra thick mirror, reach out to us first if you are unsure.
How can I connect the micro SD card to a computer/laptop?
To view or listen to video, photo and audio on a computer, follow these steps:
Remove the micro SD card from the HD Mirror Cam™ by pressing lightly on the SD card. The SD card will eject partially, allowing you to remove it.

Insert the micro SD card into the SD card reader.

Insert the SD card reader into the USB port of your computer.

Once connected to the computer, a removable drive will pop up on your computer/laptop screen. Select that drive to view and listen to your recordings.