Instantly Turn Your Rearview Mirror Into a Dependable Dash Cam
Say goodbye to unreliable dash cams that fog up, obstruct your view or fall off during accidents. With HD Mirror Cam's durable and easy-to-install design, you'll have a crystal clear view and dependable recordings whenever you need them most for your safety and peace of mind.
Get HD Mirror Cam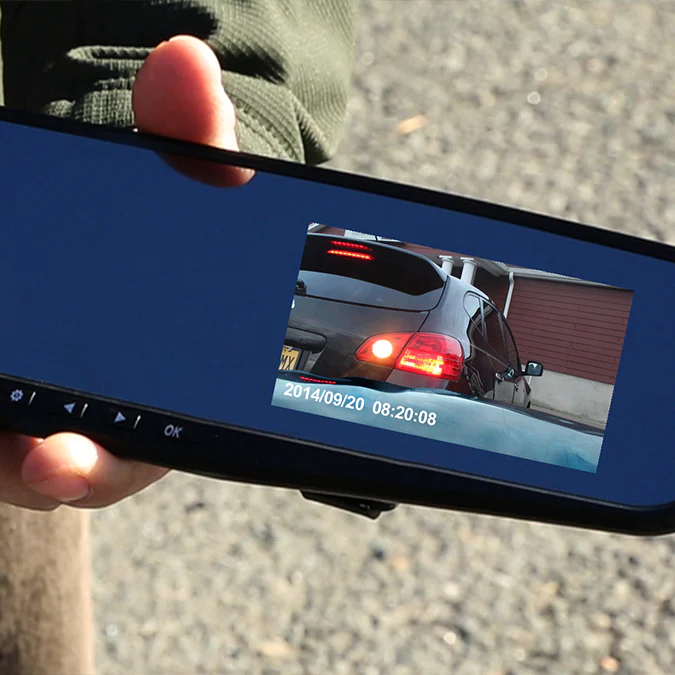 Always Be Ready for the Unexcepted with HD Mirror Cam
At HD Mirror Cam, we understand how important it is to have a trusted camera to capture all the details in the event of an unexpected road situation. That's why, unlike regular dash cams, HD Mirror Cam provides unparalleled clarity and reliable recordings, allowing you to drive without concerns and be prepared in the case of an accident.

The HD Mirror Cam helps protect you against hit-and-runs, burglaries, inaccurate insurance claims, faulty police reports and more. When you invest in an HD Mirror Cam, you gain an invisible, 24/7 eyewitness with these valuable features:
Easy Installation
Attach to your existing rearview mirror in seconds

Endless Loop Recording
Continuous coverage and reliable footage
Instant Playback
Quickly review captured content with ease
Video, Photo & Audio Capabilities
Versatile functionality lets you capture it all
How Can I Access and Save Footage?
Curious about how to access your HD Mirror Cam footage effortlessly on the scene? Don't worry — we've made it simple. Here's how HD Mirror Cam ensures quick and easy access to your recordings whenever you need them most: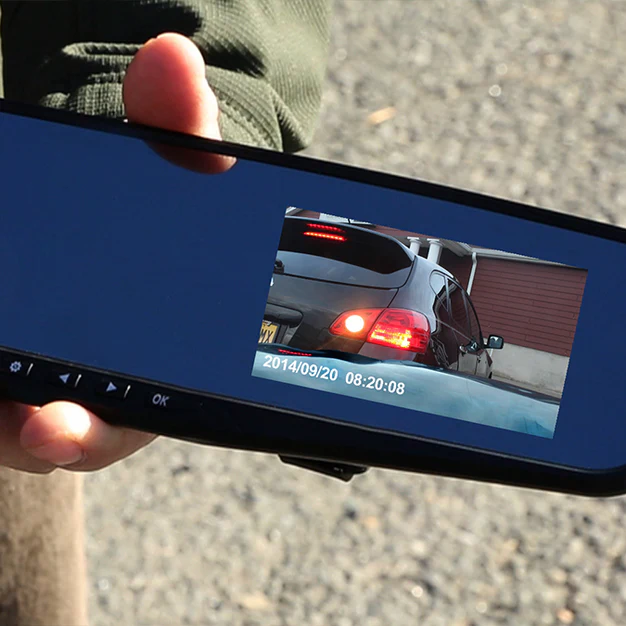 Immediately Review Footage:
Review footage right from the unit without any delay. Follow the prompts on the built-in screen to quickly and easily play back footage, giving you instant access to critical moments on the road.
Effortlessly Share and Save:
Share your experiences hassle-free with friends, family or authorities by downloading recordings onto your computer or transferring them to a flash drive. (Must purchase an SD card: not included with purchase.)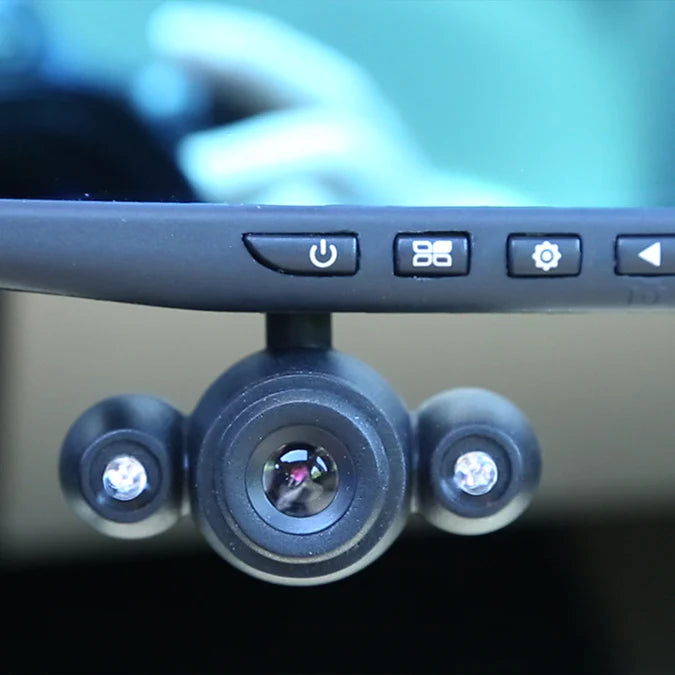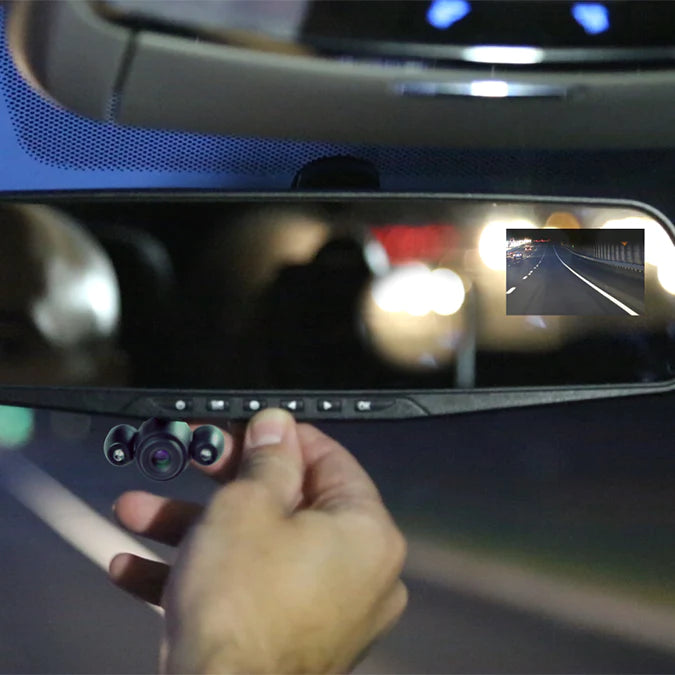 HD Mirror Cam
Features & Benefits


HD Video
Easy Installation- clips on to existing rearview mirror
Motion Detection- responds to movement outside of car
Auto Ignition Start
Exclusive Night Vision
350° Rotating Camera
Endless Loop Recording
Records Up to 14 Hours
Built-in Rechargeable Battery
Captures Video/Photo/Audio
2.5" LCD Playback Screen With Screen Shut Off Mode
Supports Class 10 Speed Micro SD Memory Cards up to 32 GB*
What's in the Box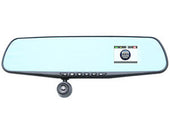 HD Mirror Dash Cam
Power Cable/Car Charger
Mounting Clips
2 Rubber Strap Bands
8GB Micro SD Card
Micro SD Card Reader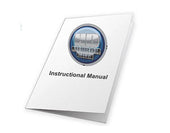 Instruction Manual
Installing Your HD Mirror Cam Is Easy — Here's How It Works
1. Clip on to Existing Mirror
Clip the HD Mirror Cam over your rearview mirror using the included bands.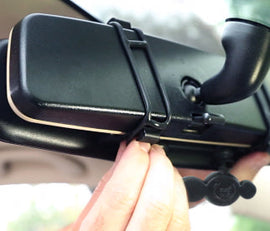 2. Effortlessly Wire
Secure the wire with the included adhesive clips along your windshield's edges.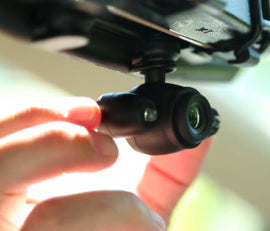 3. Plug in Car Charger
Plug into your car's 12V accessory outlet for instant recording.
Why Choose HD Mirror Cam Over a Traditional Dash Cam?
Imagine a situation where you urgently need to play back proof that you aren't at fault on the road. Don't let this worry hang over you any longer. Upgrade from a traditional dash cam to the HD Mirror Cam and get the peace of mind you deserve:
HD Mirror Cam

Easy Installation: Simply clips onto your existing rearview mirror.
Unobstructed View: Does not hinder your line of sight while driving.
Discreet Camera Design: Appears as a regular rearview mirror.
Immediate Playback: Built-in screen allows instant footage review.
Built-in Rechargeable Battery: Ensures recording even when car is off.
350° Rotational Camera: Offers flexible recording angles.
Night Vision Recording: Captures clear footage in low-light conditions.
Auto Ignition Start: Automatically starts recording when you turn on the car.
720P High-Definition Video: Records in high-definition for detailed clarity.
Other Dash Cams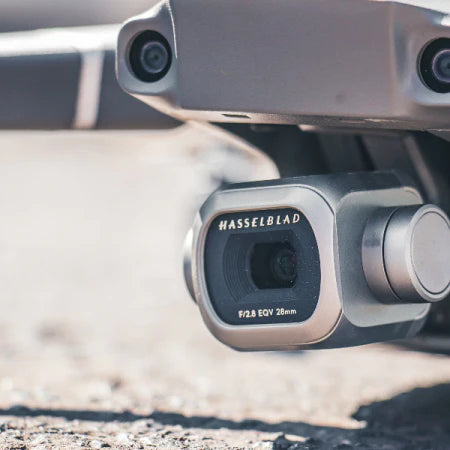 Installation Hassles: May require separate mounts and more complex installation.
Obstructed View: Mounts on the windshield can impede your field of vision.
Visible Camera Design: May not blend seamlessly with your car's interior.
Playback Difficulties: Often requires card removal and connection to another device for playback.
May Lack Rechargeable Battery: May rely solely on car power.
Limited Camera Rotation: May not offer the same degree of flexibility.
Limited Night Vision: May struggle to capture clear footage in low-light conditions.
Manual Start: Requires manual activation for recording.
Lower Video Resolution: May record in lower resolution.
Ready to Make Every Drive Worry-Free?
Gone are the days of obstructive dash cams that leave you without crucial footage when you need it most. Upgrade to HD Mirror Cam for dependable recordings you can rely on as your trusted roadside witness.